Open Letter to the President
Mood:
sad
President Bush,
I want to start this by saying I am one of your biggest supporters, and if I could have voted for you more than once, I would have. I attended rallies, put up dozens, if not hundreds of signs in your support. You're down-to-earth messages resonate deep within my soul, and give me American pride and a love for freedom that cannot be imagined.
That being said, I need to ask why you cannot get a handle on those girls of yours.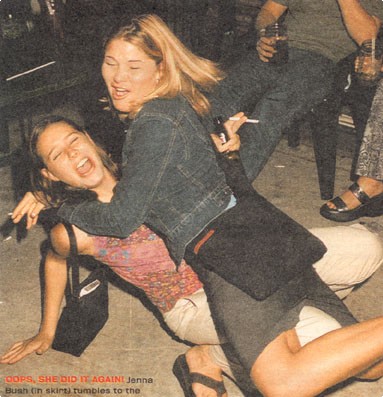 With all due respect, I cut off all ties with my both my daughter and eldest son for far milder embarrassments than those twins cause. Please, for the sake of the country, get these girls in line. Other than that, keep other the brilliant work.
With Sincerest Awe, Reverence and American Pride,
Al Candra
President and Founder- United Outraged American Families for Decency
Posted by Al at 10:53 AM EST
Updated: Friday, 4 February 2005 11:53 AM EST